October doesn't just mean Halloween, trick or treating, and costume parties. It also means the Chicago Record Store Crawl is around the corner. An experience tailor-made for vinyl enthusiasts and beer lovers, the event takes you to different record shops and pubs around the city. But the event has become so popular over the years, tickets sell out as soon as they go on sale. If you didn't get your tickets (or didn't want to pay the $50 fee), there's no need to be upset. We've compiled a list of the city's best record stores, pubs, and coffee shops to hold your own Record Store Crawl.
Lakeview
Reckless Records
With three locations in Chicago and one in London, Reckless is probably the city's most well-known and well-loved record stop. From top 40 acts to obscure artists, this place has it all. You could easily spend the entire day here browsing the vinyl racks, bargain bins, and their impressive movie collection. You can even browse their collection of VHS tapes, laserdiscs, and cassettes. And if you need help finding something their knowledgeable staff is always ready to assist. Reckless is never the same place twice, so make sure to visit as often as you can.
Gramaphone Records
This Lakeview staple has been providing fans with the latest and greatest in dance music since 1969. The shop specializes in new and used house, techno, hip-hop, and drum and bass vinyl. So, if you're looking for anything else, you'll have to visit another shop. Otherwise, Gramaphone is a haven for dance music fans and collectors. And while they offer vinyl and CDs on their website, you won't find much aside from vinyl in the shop making it perfect for vinyl purists.
DryHop
There are so many pubs and bars in Lakeview, it's hard to pick just one. But if you're looking for something that perfectly pairs beer and food, you gotta stop by DryHop. Just a few steps away from Reckless, this place serves exclusive craft beers. Often touted as one of the city's best brewpubs, this place does the most to offer the ultimate flavor experience. Their menu is made to perfectly pair with the craft beer they serve. Some of the dishes they offer include Green Curry Mussel and Chorizo and Potato Tacos. Make sure you visit often as their menu is never the same twice.
Wicker Park
Shuga Records
Wicker Park's newest record shop may not be as big as Reckless Records, which is only a few blocks away, but it stocks a wide variety of music, especially new releases. You can easily find exclusive colored vinyl and picture discs here. Plus, they keep records by local artists like Local H and Twin Peaks in stock. They also help out acts they like by pressing their releases onto their own record label adding to their eclectic collection. While you're there, you can also pick up smoking essentials and cool t-shirts sporting the Shuga Records brand.
The Exchange
Don't dismiss The Exchange just because it's a franchise. With stores in Wicker Park and Belmont, this is the best location if you're looking for vinyl. While their vintage vinyl collection is small, new releases and Record Store Day leftovers are aplenty here. It's also the perfect place for movie buffs. The endless cases and shelves stocked with latest and classic movies are enough to make your head spin. And while you're looking, make sure to swing by their retro games section and pick up that copy of Super Smash Brothers you never got for Christmas.
The Wormhole Coffee
If you need a pick me up in between record stores, make sure to swing by The Wormhole Coffee. This charming 80s themed café is the only place where you can drink your coffee right next to a DeLorean. Science fiction and nerd culture is proudly celebrated here with Star Wars posters hanging on the walls and toys from your childhood lining the shelves. Their menu features cute homages to their favorite movies and video games. If the décor isn't enough to make you stay, then the delicious drinks and cozy atmosphere will.
Logan Square
Bric-a Brac-Records
When it comes to vinyl selection, Bric-a-Brac doesn't have the biggest to choose from, but if you're looking to relive your childhood, you need to visit this place. The small unassuming shop not only stocks new and vintage vinyl, but it's also filled with toys, collectibles, and VHS tapes from the 80s and 90s. If you don't spend a whole paycheck buying records, you'll probably spend it buying Batman toys and Topps horror trading cards. They're seriously a steal at three bucks each.
Revolution Brewing
Not only is Revolution Brewing a Chicago staple, it's the largest independently owned brewery in Illinois. The outside is unassuming, but inside is a gorgeous yet simple set up that's made it a top spot for wedding ceremonies and parties. The Logan Square brewpub features their most popular drafts, such as Rosa Hibiscus and Fist City on tap. And if you come at the right time, you can score some exclusive one-off brews only available at Revolution. Their food menu is also impressive offering unique appetizers like Bacon Fat Popcorn, delicious burgers and salads, and hearty entrees like Blackened Bone-in Pork Chops. Whether you want a quick drink or a full meal after a day of record shopping, Revolution brewing has you covered.
Irving Park
Sputnik Books and Records
Sputnik Books and Records is another place that's easy to miss. The front features a small, yet cozy café lined with books to read and peruse at your leisure, while the back houses a compact record store. Their moderate, yet impressive collection is enough to get lost in since you'll never know what you'll find. You could walk away with a treasured Depeche Mode single or an album from an obscure 80s band. Bonus if you're a book lover as well; the shop is filled with used books and comics for purchase. It'll be hard walking out of here empty handed or at least without sampling their coffee.
The Cabin at Old Irving
This charming pub makes you feel right at home. Made to look like a log cabin, it has deer heads, mounted fish, and pictures covering the wood paneled walls. It has a welcoming atmosphere and the stone fireplace behind the bar completes the comfortable mood. They keep their drink selection fresh by changing tap beers every other week and while they don't serve food, they offer warm pretzels and popcorn. It's a cozy place to visit especially with the oncoming winter chill.
Southside/Bridgeport
Let's Boogie Records and Tapes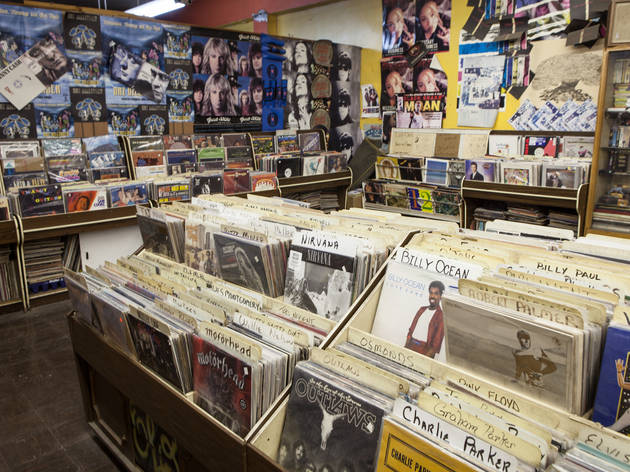 Let's Boogie Records and Tapes has been serving local audiophiles in the neighborhood for 37 years and not much has changed. You'll walk in and will find bins of glorious vinyl to flip through. You'll also see faded posters of KISS, Led Zeppelin, and Donna Summers that have been lining the walls since the 70's. It may also be one of the only record shops that puts its 8-tracks font and center instead of stuffing of them in a crowded, dusty bargain bin. It's a great place to score some vintage vinyl or cassette tapes if you're one of the few people who kept their Walkman.
Hyde Park Records
Touted as Vince Staples' favorite record store, Hyde Park Records is one of the best vinyl stops you might have missed. This shop has been offering a wide selection of everything from hip-hop, blues, and jazz since it opened its doors in 2004. Their large selection of new and used vinyl, CDs, books, and magazines, including a whole bin dedicated to vintage Jet Magazine, pulls in shoppers from around the world. To make things even better, they frequently host in-store events, including their "All Vinyl Series," which features different DJs throughout the month. If you haven't shopped here, do yourself a favor and get over there.
Sip & Savor
One of the most popular cafes on Chicago's Southside, Sip & Savor is relaxing and boasts a delicious menu. Only steps away from the lake, this café has top-notch certified fair grade coffee from around the world along with mouthwatering pastries sourced from local bakeries. Featuring drinks like Banana Caramel Latte, Caramel Royale Latte, and Tuxedo Mocha, it's hard to walk past and not stop in for a quick drink. And if you want something a little stronger, there are boozy caffeine mixers bringing together two of your favorite adult beverages. With five locations on the Southside, Sip & Savor is bringing flavor, chill vibes, and lots of positivity to the neighborhood.
Pilsen
606 Records
This hidden gem is right across the street from the gorgeous Thalia Hall making it hard to pass up when lining up for shows. The clean, minimalist space stocks records of all kinds but focuses on releases from smaller independent labels. And while they offer all genres, they have a hefty amount of electronic records to flip through. Not sure if you're ready to pull out your wallet? Preview your picks at one of several turntables near the front for your listening needs. They also have a website to browse and shop from if you can't make it out to the physical location.
Pinwheel Records
Only steps away from the 18th Pink line stop, this is one of Pilsen's highlights for music lovers. It offers an impressive selection of new and used vinyl along with a moderate number of CDs for those hanging on to the format. The store is vibrant, the staff is friendly, and you can even say hi to owner Scott Schaaf's cat who's practically the shop's mascot. There's even a cozy listening station to let you sit and preview albums before you buy them. Make sure to check out the local art that decorates the walls and the vintage Pac-Man cabinet in the corner.
Punch House
Housed in the basement of Thalia Hall is Punch House, a dive bar that feels like you're stepping into a circa 1975 rec room. Sticking true to its name, the bar's menu is stacked with boozy punches meant to share with a table. You can get a single glass for $8, a carafe, which is big enough for four people, for $32, or a punch bowl, big enough for eight people, for $59. Their food menu strays from your average bar and offers highbrow items, like black truffle and foie gras, shishito hush puppies, and fondue.  If you're looking for a different bar experience, make sure to swing by this place after you score some vinyl.